Skip Navigation
Website Accessibility
Month's End
---
Welcome to Ma's Got'a Notion
Here at Ma's, we got your back...quilt back that is!!!
September has almost come to a close and we quilters are about to enter our hibernation phase. We go into panic mode because we think OH gosh...I have less than 3 months to get this or that quilted item ready for this person or for that special person on our Christmas list. Yes, you can identify with this statement I'm sure, I know because I have heard YOU say it year after year. I too panic at times, but unlike you, I have super salespersons at the tip of my one-digit dial finger and can ring them up for what's new in the marketplace. The following is just the starter of what's to come in 2024. BUT...you know me, I love to pass on all the cool things coming to Ma's from my suppliers!
I like to share like that! :>)
BUT...no worries for you, well... for at least ONE person on your gift list this year, or maybe for yourself. I found these (door banners or wall hangers, you choose or let the recipient choose) how they or you want to use this gift. I think that these would be especially awesome as a gift for the school teacher in your life to hang on their classroom door, or in their classroom. Maybe you have a professional person on your gift-giving list, a doctor, lawyer, minister, or anyone who loves to have their office door not only welcoming but festive too with the changing seasons.
What is so awesome about this gift... is you can have the very first one ready in plenty of time for Christmas, including a note in the 1st gift. Something like: Dear _____ you will be receiving the remainder of your gift in monthly increments for the following 11 months. What a surprise that will be and the anticipation they will have from month to month waiting on their gift as the seasons change.
This is month 1
Here are the other 11 months, but what I want to share with you is this...Each month you will receive the pattern, and all of the materials to complete the top, back, binding, and hanging sleeve, all in a designer box. Some of the items will have embellishments included too, for example, I just feel that the snowman in the photo above feels unfinished to me, so I plan on dressing him up a bit. I will be adding his button eyes, mouth, and buttons or snaps on his body...I mean what snowman would stand guard on any entrance area without eyes?!?!? So, any added embellishments you would see on the shop samples, you will receive in your kit too. The monthly fee for this BOM will be $52.00, it will be ready for pickup on the 15th of each month. Beginning: Nov. 2023.
Here are the monthly increments from months 2 - 12. How fun are they all?!?!?! I LOVE them!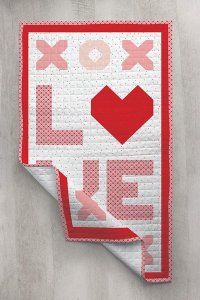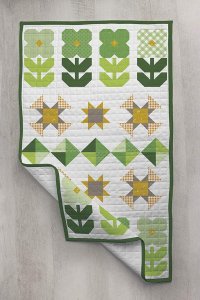 The months roll by so quickly, I find that not only does doing a monthly BOM help to slow down time, but it also gives me something to look forward to. Before I was ever a shop owner (in my other life) I loved doing the BOMs at my local shop, it got me out at least once a month to visit with the owner, helpers, and other guests visiting the shop. I got to see how the shop reflected the changing seasons and inspired me with more projects to add to my arsenal of tools and stash too. So get out at least once a month and come in for a visit to pick up your BOM. Even more fun, get a buddy to sign up too, and make it a friends day with shopping and lunch. Havana does have some fun shops to explore and some good lunch spots for lunch too.
I know, my shop is in PODUNK county, and is not an easy trip for many of you. No worries, I ship, and getting a new project in the mail is not only a gift for you the "piecer", but also most often a ready-made gift at hand so you never have to panic again! Make these monthly completed single BOMs, give them to a sole recipient, or have them on hand to give as < birthday gifts> which could reflect the receiver's "Birthday Month". Keep them yourself, the possibilities are endless. The end result is a win-win as you will have 12 fully completed individual items, the operative word here is (COMPLETE)!
OH, yes there is more to this story...what is also a fun fact is each and every one of these Door Banners are designed by 12 different designers. A great way to get to know some of Riley Blake's designers. Here is a photo of the 1st-month installment: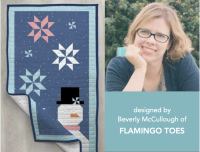 Beverly grew up in a creative family of artists and seamstresses, so it is no surprise that she loves to create. She began sewing and doing needlework as a teenager and made her own clothes and room décor even then. That love for sewing and crafting has grown to include jewelry making, furniture refinishing, and anything else she can learn, and her blog, Flamingo Toes, was born out of a love of sharing those projects. Her style could probably be described best as a mix between modern and vintage – she loves taking old styles and making them new and fun again. She is married to her high school sweetheart and is a recent transplant to Nashville, Tennessee.
So there you have it...but there is more in the weeks to come at Ma's, new fabric lines, and yet another BOM will be offered in the next few weeks too.
This is Bridal Path which started on Sept. 10, 2023.
The Bridal Path BOM to date has been sold out...BUT WAIT, once I get all of the months for it bagged up for the current participants, I will then know if I have enough fabrics left to make a few more kits. This is such a beautiful BOM and has been an easy buy for everyone signed up even before they saw the completed quilt, those who live near and have picked up their 1st monthly installment have had the opportunity to see it here at the shop, and have been astounded at just how truly beautiful the fabric is.
The last BOM "Blissful" is over this month...BUT, I still have 2 complete sets left. To recap your memory of this one, it's a 96" X 96" quilt, 2 pillow shams, 2 neck pillows, 2 bolster pillows, a dresser runner, and a nightstand topper.
Here is a photo of them all. You can find the kit on my website or in the shop: https://www.masgotanotion.com/shop/c/p/Wilmington-Prints-93-x-93-Cotton-Blissful-patterns-and-fabrics-for-the-quilt-binding-and-all-of-the-accessories-Scroll-to-the-bottom-of-this-page-to-see-closeups-of-Blissful-KIT-x72577721.htm
Well, this is about all I have for now about BOM's but I will be back next week with info about other things happening around the cutting table here at Ma's Got'a Notion, where we are pretty easily entertained as long as we have fabric to cut-up and thread to stitch them back together again!
Happy quilting everybody, talk soon!
Have a great week and I hope to see you around the cutting table here at Ma's.

Would you like to contact Ma, Deb, or the shop?
Sue Schaeffer, Owner
Ma's Got'a Notion
305 W. Main St.
Havana, IL.