Skip Navigation
Website Accessibility
To be warm
---
Welcome to Ma's Got'a Notion
Here at Ma's, we got your back...quilt back that is!!!
And sew much more!
Who among you had to be out in this stuff the last few days!?!?!? I hope that those of you who are still in the workforce, have employers who closed at least for the 2 of the worse snow and wind days, or at least allowed you to take a vacation day. My feelings are that the men and women who plow our highways and streets already have it tough and the more of us who can stay off the roads all the better to make their job a bit easier!
Since Wed. 2/2/22 has passed in a blur of blowing snow, then you know that everything we had planned for that day was smothered out by the white fluff!!!!! Well, I sure am glad the month of Feb. gave us a "2nd chance" to celebrate the #2, again this month! We shall be preparing for even more fun on 2/22/22, and you should strategize with your quilting buddies 2 attend this celebration of the #2 at Ma's!
But in the meantime, lets see what we can do to celebrate the #2:
Since we could not have our #2 day of the 2nd month of 22....I want 2 make it up 2 you, best I can!
Please pass the word...our saleroom has been over flowed for way 2 long...so, for this, the 2nd month of 22 year, for the remainder of the month, all the fabric in the salesroom will be $4.00 per 1/2 yard or $6.00 per yard, when bought off the same bolt. All of the rolled and tied fat quarters in the saleroom will be buy 10 and get 2 free! This will be for ALL OF FEB. 2022 EVERYDAY OF THIS MONTH! There is a ton of really awesome fabrics back there and will be great add-in fabrics to your stash.
Fabric prices are climbing for a number of reason, (just like everything now days) shipping, due to the logistics of where the goods come from, there are higher tariffs and added cost for storage fees while sitting on docks or on ocean liners, waiting on the manpower to move them to the next stop of their journey.
Cotton prices took another hike, due to weather conditions, mainly.
Also, the lack of workers have our suppliers in a bind, (only we who work in quilt shops, have the fun jobs of getting the fabrics from point A to the fabrics final home...your sewing room!) All of the other aspects of a fabrics travels, is very hard work on those who handle it. From the bursting cotton boll, to milling, to the final fold and roll onto the cardboard bolt...it is quite a feat. I salute all those in the industry who are the true reason that beautiful fabrics grace my shelves!
So you see....this 2nd month of the 22nd year is a reason to stock up from the saleroom at Ma's!
Just sayin"!!!!
If you have been in lately you know I do have a few empty shelves at the front of the shop where we showcase new arrivals. We moved so many bolts to the saleroom to make room up front, leaving room for the new lines...but due to shipping delays, we are still waiting anxiously for some new arrivals. I am in hopes that they will show up soon. I promise you, they will be worth the wait.
In other news...The fabric for the "All Illinois Shop Hop" was revealed to the shop owners this past week. I can't wait until I can share it with y'all. It's a very fun fabrics and I think you will want a few chunk of it for yourself. Remember the "AISH" will be the full months of both Aug. & Sept. of 2022. There are 55 shops throughout the state participating this first year. This will give you the chance to see what great quilt shops the state of IL has to offer up! Share the news with your quilting buddies and start planning your trip now...I hope you will include Ma's on that quilting excursion! If you or your friends are coming from afar, check the Air B&B's here in Havana, so you can plan an overnight stay here in heart of quilting country!
As we never know what the weather can be....always call before you make a long distance trek to visit Ma's, if the weather man is saying there could be some hazardous road conditions. Ring us up: 309-543-6613.
In my next message to you I promise to have some great fabric pictures to share with you.
Right now I want to share these kits with you incase you missed them here at the shop.
You can find this beauty here at the shop or on my website:
https://www.masgotanotion.com/shop/c/p/Riley-Blake-Cotton-Barn-Quilts-Trail-Quilt-Kit-KT-11050-x61004515.htm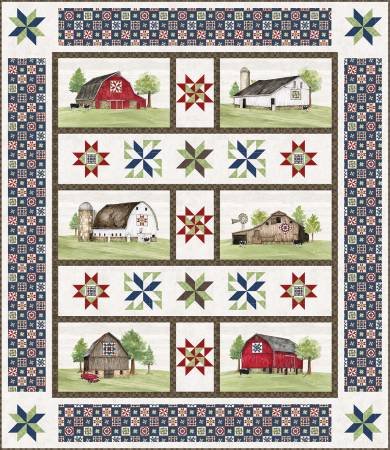 Should you be looking for a large quilt that will hold its historic value for years to come, check out the quilt that graces the bed in the cabin at the Lincoln Museum in Springfield, IL.
Hanging in the shop and also hanging around on the website waiting for you to order it:
https://www.masgotanotion.com/shop/c/p/Lincoln-Cabin-Quilt-kit-84-96-Homespuns-BBLCQ-x61333300.htm
I also wanted to remind you if you are looking for a fun toddler quilt that we have several kits to choose from here at the shop and also on my website. From farm animals to forest animals they are each fun, fast, and just the right size to quilt them yourself! Hop over to my website and type the following into the search box, to bring them up: fox, owl, racoon, pig, cow, lamb, tractor and superhero are all playful toddler quilts, doable by a new mom or an experienced grandmother!
That's about all today, I just wanted to touch base with each of you and pass on what little news I have acquired since I have been snowed in!
You stay safe, and come see us when the weather permits.
Until then....this is the type of weather we have trained for!!!!
Stay warm!
Warm hugs from all of us, at Ma's Got'a Notion
---
Should you like to contact Ma or the shop Angels.
Sue Schaeffer, Owner
Ma's Got'a Notion
305 W. Main St.
Havana, IL.